Highlights
Documents reveal Bethesda's plans for Fallout 3 and Oblivion remasters in 2022 and 2024, but the status of these projects is uncertain as Bethesda focuses on The Elder Scrolls 6.
The documents date from a few years back, and so the information can no longer be considered 100% accurate.
The release schedule from 2020 shows upcoming projects from Bethesda, including Dishonored 3, a Ghostwire: Tokyo sequel, and mysterious games known as Project Kestrel and Project Platinum.
Documents have revealed that Bethesda may have been working on remasters of Fallout 3 and Oblivion as recently as a few years ago. Even though the FTC's attempt to block Microsoft's Activision Blizzard acquisition was denied after a public trial in July, the federal agency is still set on impeding the deal from closing. And recently, a number of badly redacted documents from the case have leaked, revealing a lot of interesting tidbits about various key players in the gaming industry.
It was rumored that Nintendo held a closed-door presentation of the Switch 2 during Gamescom 2023, and an email that leaked in mid-September seems to confirm the existence of the console. The email is between Activision executives in preparation for a meeting with Nintendo President Shuntaro Furukawa. In the document, dated late 2022, one of the execs commented on the power of the Nintendo Switch 2, stating that it would be close to generation 8 consoles in performance.
RELATED: New Elder Scrolls 6 Update is Bad News for PlayStation Gamers
In other documents from the FTC vs. Microsoft court case, a release schedule of upcoming Bethesda projects has also come to light. This chart was created for a July 2020 presentation about Microsoft's acquisition of ZeniMax Media and Bethesda, which wasn't finalized until March 2021. There are several interesting titles on the list, including a game called DOOM Year Zero and its DLC, as well as Starfield DLC, which was apparently already on the drawing board. But what will stand out for many people are the mentions of The Elder Scrolls: Oblivion and Fallout 3 remasters, slated for release in fiscal year 2022 and 2024, respectively.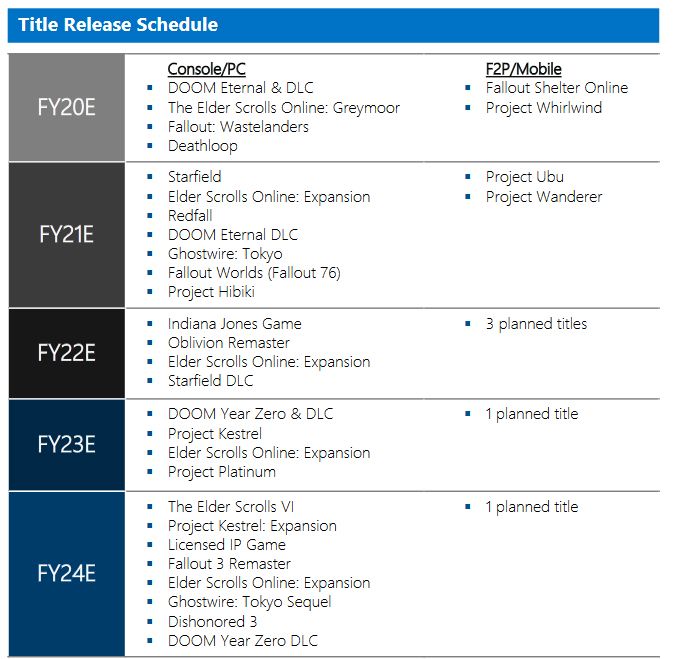 Obviously, there was no Oblivion remaster in 2022, and there probably won't be a Fallout 3 remaster coming out in 2024, especially since Bethesda has turned its attention to The Elder Scrolls 6 now that Starfield has been released and other leaks from the FTC case have revealed that TES6 isn't expected to launch until 2026 or later. Granted, the developers at Bethesda could be divided into separate teams, much as they were to work on the remastered Skyrim Special Edition, VR version, and Anniversary Edition while Starfield was in development.
It's also important to keep in mind that this release schedule is from 2020, when Starfield was expected to launch in FY2021. A number of titles on the list did not release when projected, and others still haven't even been announced. But some other interesting things show up on the release schedule in addition to DOOM Year Zero and the Fallout 3 and Oblivion remasters. Fans will be excited to learn that Dishonored 3 and a sequel to Ghostwire: Tokyo also appear on the list, as well as some mysterious games known only as Project Kestrel, Project Platinum, and "licensed IP game."
MORE: Every Fallout Game In Chronological Order
Source link