Highlights
Call of Duty: Modern Warfare 3 Zombies' story is confirmed to be part of the Dark Aether timeline, and players now know that the heads of Requiem are seemingly dead.
During the cinematic trailer for MW3 Zombies, what looks to be Weaver's body is shown alongside three others, presumably Dr. Grey, Dr. Strauss, and Carver. Intriguingly, the characters' corpses are all resting by an aetherium device.
When exactly the four Requiem characters died is unclear, with possibilities including their immediate deaths after the Forsaken cutscene or later on after the events of Call of Duty 2024 Zombies.
For better or worse, Call of Duty: Modern Warfare 3 Zombies is shaping up to be the most unique iteration of the mode thus far. The upcoming mode is confirmed to be open-world and has been rumored to feature up to 24 players, with four squads of six supposedly battling through a modified Warzone map. Rumors of a Modern Warfare 3 Zombies beta suggest that Treyarch has some confidence in the mode, as it is possibly planning to let players try it before launch. Regardless of how this ambitious Outbreak successor turns out, fans now know that it will not be pulling any punches when it comes to its story.
Alongside an image featuring a Mimic mini boss from Black Ops Cold War which suggested as much, Treyarch confirmed that Call of Duty: Modern Warfare 3 Zombies will be part of the Dark Aether timeline. Considering that it takes place long after the events of Black Ops Cold War – and seemingly Call of Duty 2024 – many likely expected the story to be inconsequential like Call of Duty: Vanguard. However, the Cinematic Trailer for Modern Warfare 3 Zombies is anything but, as it has already brought one big story revelation: the heads of Requiem that players bonded with in Black Ops Cold War are seemingly dead.
RELATED: Call of Duty: Modern Warfare 3 Already Has One Thing in Common With The Worst Zombies Map Ever
Call of Duty: Modern Warfare 3 Killing Requiem Has Massive Implications For CoD 2024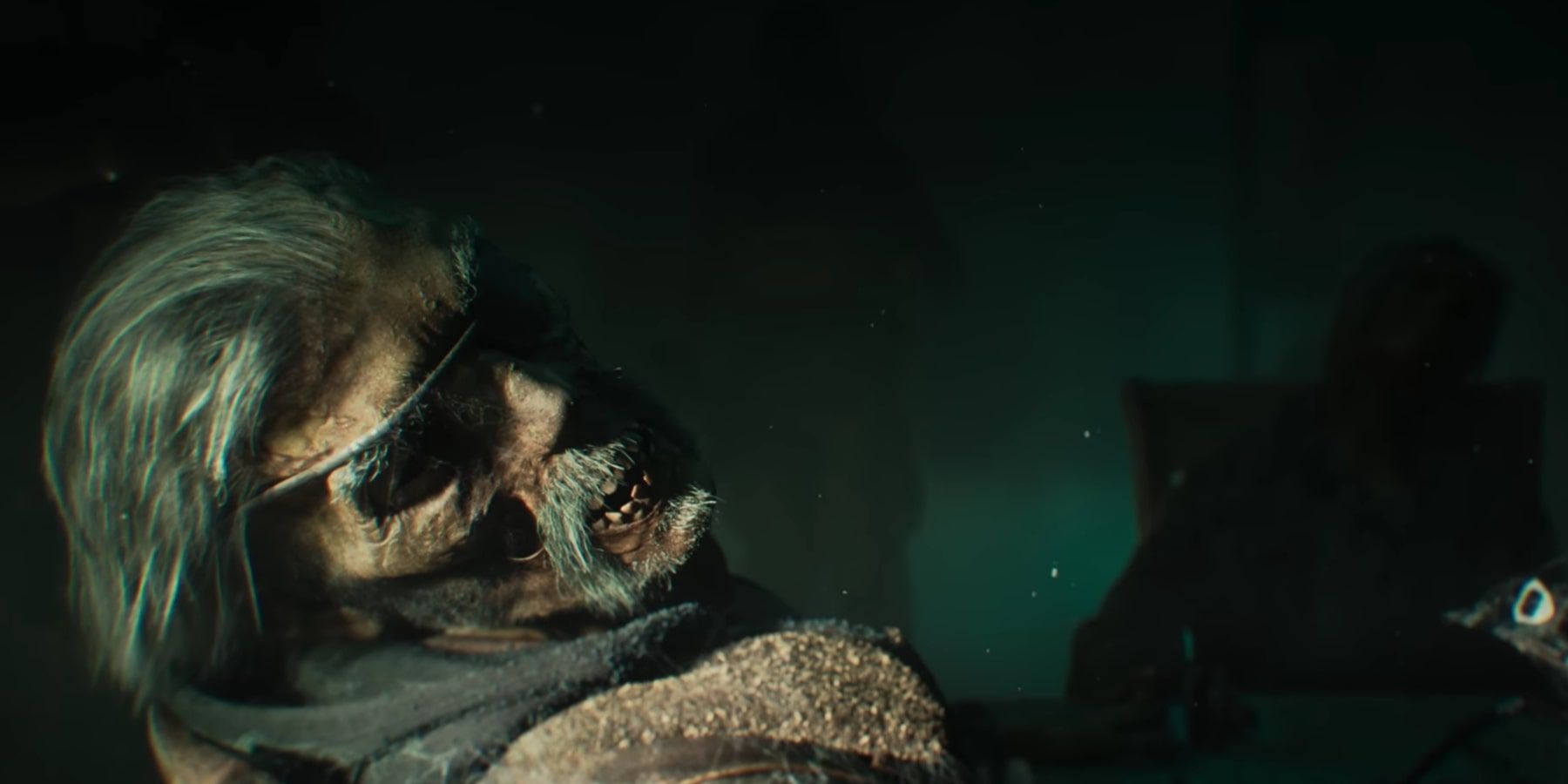 Requiem's four major players were in a bad spot the last time that players saw them. At the end of the Forsaken main quest, players' suspicions are confirmed and Richtofen is revealed to be Requiem's secretive director. And, like he was known to do in the Aether timeline, Richtofen betrayed all of his allies to further his own agenda. During the final cutscene, Weaver, Dr. Grey, Carver, and Dr. Strauss are placed under arrest. Players are left to wonder if Richtofen is having the characters killed or simply locking them away, but now, fans may have their answer.
About a minute into Call of Duty: Modern Warfare 3 Zombies' first trailer, a villainous group led by Victor Zakhaev stumbles upon a container of aetherium, with the element inevitably being used to start a new undead outbreak. However, Zombies reappearing in the modern day is not the most interesting part of the trailer, nor is the presence of campaign characters like Soap MacTavish and a much older version of Black Ops Cold War's Ravenov. Instead, players' eyes have been drawn to the four bodies around the aetherium canisters.
While Call of Duty Zombies fans do not get a clear look at all the bodies, one in particular is focused upon: a man with short hair and an eyepatch. The resemblance to Black Ops' Grigori Weaver is uncanny, and with a female body nearby that is presumably Dr. Grey, it can be assumed that these are the four characters Richtofen had detained. With the bodies having been decomposing for some time, it also seems like these characters died long ago, and a few possibilities immediately present themselves.
The first scenario is that the characters were interrogated and killed in the same room immediately after Forsaken's cutscene. This would mean they have no role in Call of Duty 2024, with Treyarch instead focusing on a different group of protagonists. However, this does not explain why they died sitting near an aetherium device, as Richtofen positioning them around such a powerful item would make little sense. Additionally, Peck's epilogue scene in Forsaken implied that players would be trying to rescue Requiem, and though he may have been referring to some other "friends," the scene was framed to suggest a rescue.
The other scenario is that Treyarch has just spoiled Call of Duty 2024 Zombies; 1990s storyline. Even if players do rescue the four Requiem characters, they are destined to die together in a dimly lit room around a powerful aetherium device. Perhaps this is tied to some sacrifice Requiem will eventually make in Call of Duty 2024, though for now, fans are being left to wonder about how these characters died and why they are so close to the device. The Forsaken may have showed players that the Requiem heads would die, but the scene it displayed is much different from the one in this trailer, and it will be interesting to see how everything plays out.
Modern Warfare 3 Zombies essentially making Call of Duty 2024 a prequel would be a bold move, but since it is unclear whether Requiem dies right after Forsaken or later on in the story, it is impossible to say if that will be the case. In Call of Duty 2024, players could end up experiencing the Requiem heads' final days or a story about a different cast, with Requiem already being dead. Either way, killing off four of the biggest players in the Dark Aether story thus far shows that Treyarch is willing to take risks.
Call of Duty: Modern Warfare 3 launches on November 10 for PC, PS4, PS5, Xbox One, and Xbox Series X.
MORE: 5 OG MW2 Weapons That Deserve To Be in Modern Warfare 3 At Launch
Source link